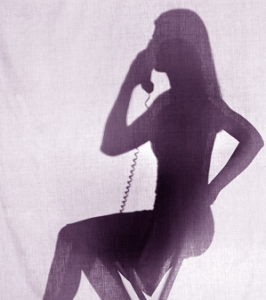 Although phone sex is always very personal and everybody has his own preferences, still some conversational tips for getting the most out of your chat may help you to enjoy it even more.
It really doesn't matter even if you are a first timer or not. Keep reading further and keep our tips in mind on your next call and you'll be a professional in the art in no time. Making erotic calls is the ideal way to make a safe, innocent carnal connection, without the additional stress that actual physical one on one contact may give you. No nagging afterwards, no wondering if your partner likes what you are doing, or you not liking what he/she is doing to you, no risk of getting STD's , unwanted pregnancies and also very important: working out your fetish any way you desire with no limitations. Talking naughty isn't as difficult as one may think it is. Often it's more a matter of having the courage to let yourself go than actually having conversational skills. Still we would like to give you some tips that may help you out. Just follow these suggestions on how to have  the best telephone sex and you'll definitely know everything you need to know to have a naughty, hot and steamy conversation and arouse yourself to the fullest extent.
Patience, The Art of Phone Sex in India
Phone sex should not be done in a hurry. Just like you need foreplay to enjoy passionate love making, you need to be patient and set the mood right. Use your erotic imagination, hare your inner desires, describe in detail your favorite fantasy or tell, step-by-step, what you wish you were doing to your partner on the other end or what you want to be done to you. Remember to be patient and make sure you have some time alone without any interruptions. Just speak normally in a soft, low voice and the professionals will handle the rest. Of course you should let yourself go totally when the excitement takes over. There should be no holding back. Why should there be anyway? Your aim is to get the best experience possible so you should open up and let go of all that may hinder you.
The Right Mood is imperative!
Another phone sex tip is getting or being in the right mood when having an erotic call. To enjoy your conversation optimally you should be aware of your surroundings and how they affect you. When you want have a naughty conversation without any distractions, these are a few tips to get you in the right mood.
1. Turn the lights down
The darker the room, the more focused you are on what you're hearing without getting distracted. This way the you will limit any visual distractions that you may have when you are in a surrounding that is well lit. It will also create a better, more relaxing ambiance.
2. Cancel all calls waiting
When you have the time, cancel all calls waiting before you make your phone sex call. Preferably call late in the night when you aren't expecting any other private calls. Getting called privately during your erotic chat can definitely ruin the mood.
3. Close your eyes while having a call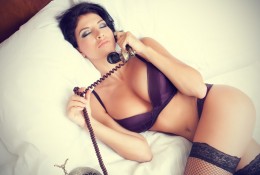 Closing your eyes is actually an addition to turning the lights down. It will make you concentrate a lot better on your conversation. Sit or lay back on the  couch, or get under the blankets and close your eyes and pay full attention to the words you're hearing. Let your imagination run free and visualize what you and your calling partner are doing. This way you will get the maximum result out of your conversations.
In conclusion, having telephone sex can be a lot of fun and be very memorable. It can definitely be a huge turn on. It doesn't matter if you've never done it before or if you are feeling a bit uncomfortable talking dirty over the phone. All you need is to try it once, and you'll see how arousing this experience can really be. More over, many erotic chat services also have a recorded story option in case you are feeling too shy to speak yet, or when you just prefer to listen in stead of talking. The girls will tell you about their hottest adventures so that should definitely get your "rocks off". So enjoy these conversational tips, whether  during a hot and steamy call with your partner or while on a super arousing phone sex chat with our professional hot girls on Indiansextalk.com. Give it a try and you'll be sure to want more of it!